Lucas Maehara Rotman Music 12/12/2022
Hope everyone is doing well, gearing up for the holidays.  Busy times for everyone! 
Exciting news!! On February 8th, I'll be headed over to Leesta Vall Studios in Brooklyn to record a handful of one-of-a-kind 7" vinyl singles with @leestavall as part of their Direct-To-Vinyl Live Sessions project. Here's how it works: You choose the song, from either my prior recordings or from my upcoming release, "Lost and Found" and I will perform it LIVE as the record's cut in real time - making you the only owner of that particular performance. This is literally as personalized as it gets folks. Limited pre-sales available now: 
https://leestavall.com/products/lucasmaehararotman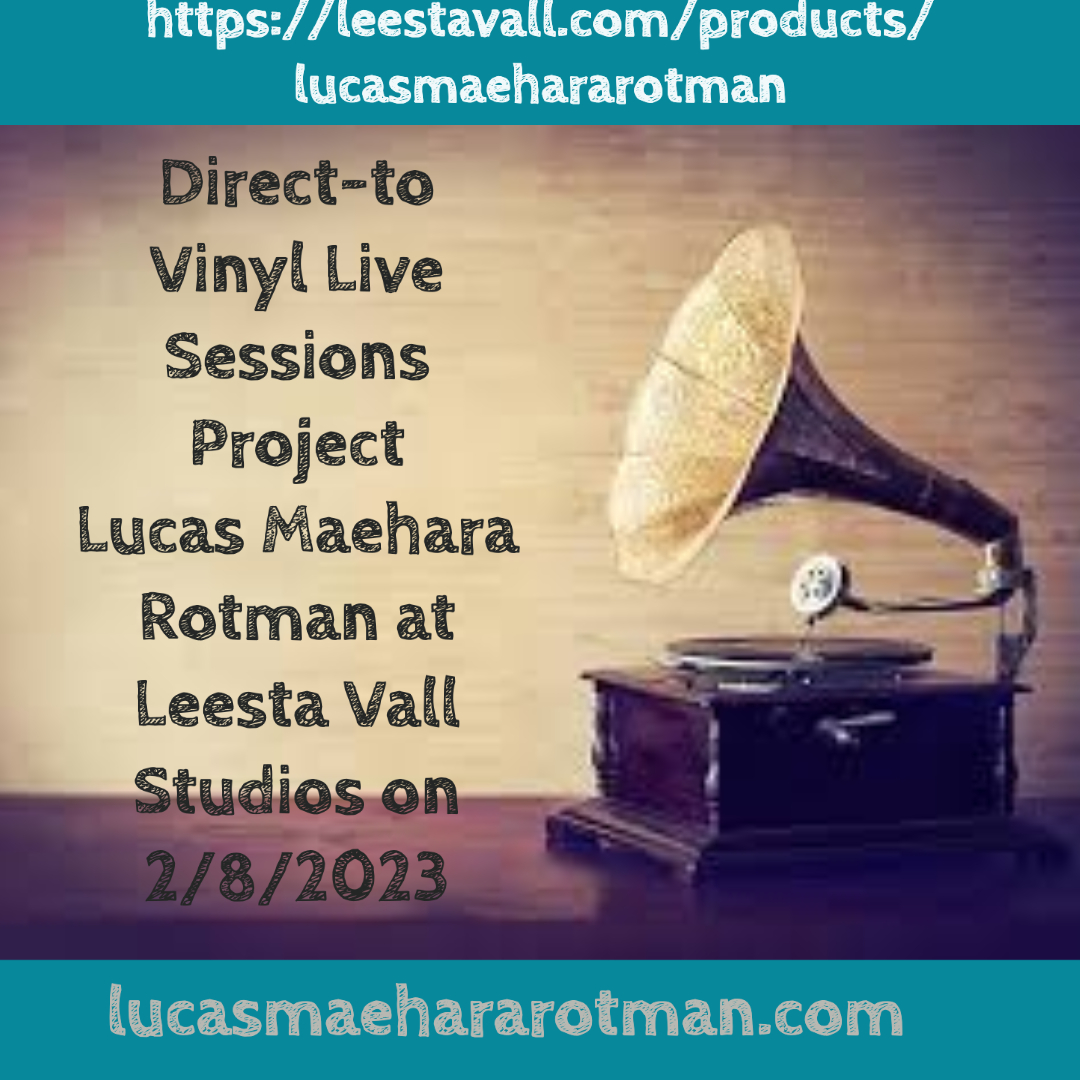 Upcoming Show at Rockwood Music! 
Really excited to be performing as a trio, Jeff Anderson on bass and Brewster Smith on drums, at the Rockwood Music Hall on December 21st @ 7pm.  Playing songs from my upcoming release, "Lost and Found" set to come out Spring of 2023!  I will be setting up a go fund me campaign to help with some of the production/distribution costs and to give folks the chance for pre-order and special bonuses!  I'll be distributing music digitally through streaming and download, but will also be pressing a run of good, old fashioned CD's as well!  More info to come!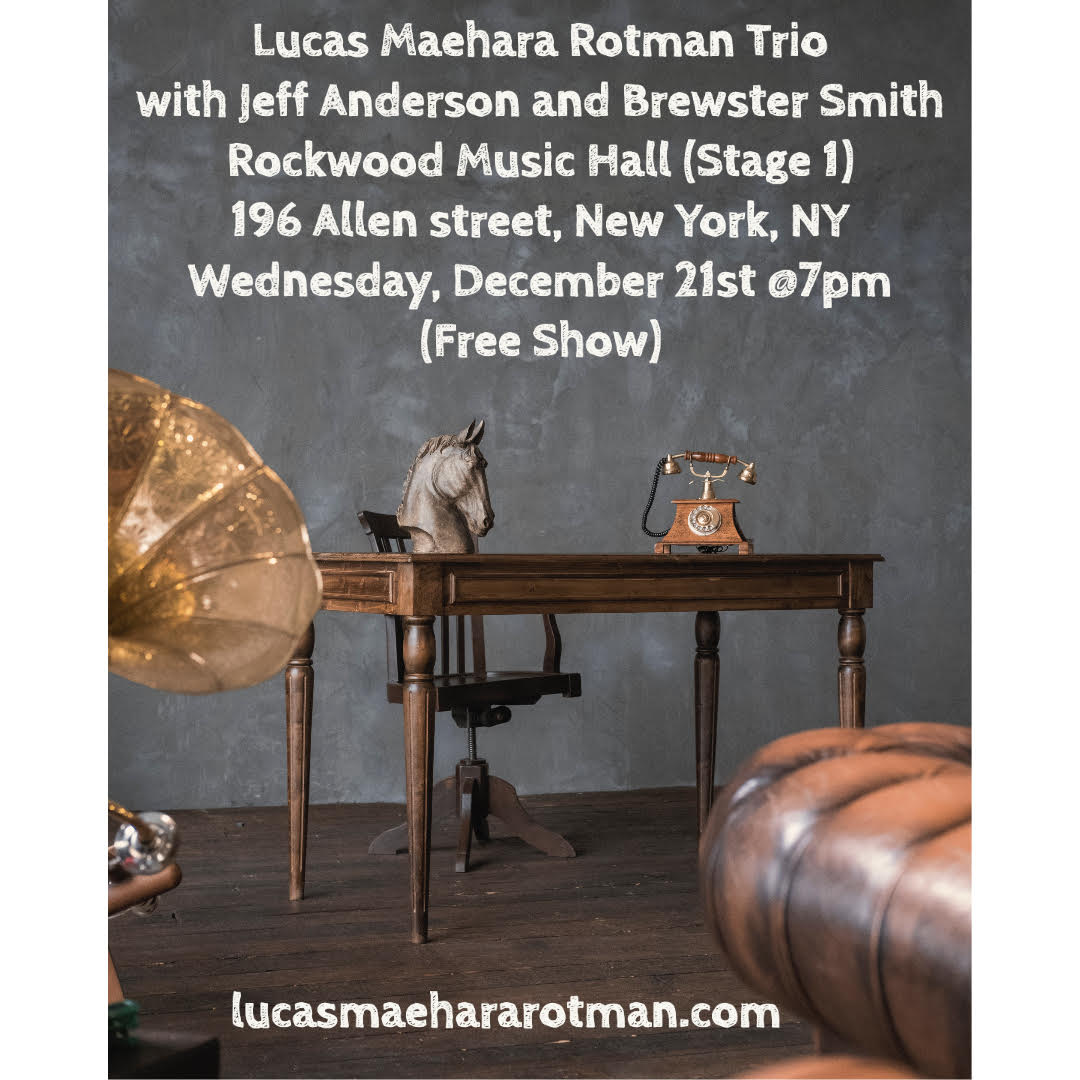 Lucas Maehara Rotman Music 11/12/2022
LMR MUSIC NEWS 11/2022
Dear Friends, 
How are you?  Hope you're well!  The days are shorter and chillier, and the rain is hurtling down in Brooklyn this afternoon.  As I attempt to develop and grow as a singer/songwriter/musician, I just wanted to keep you all updated on gigs and new projects in the near future! 
In anticipation of the release of new music from a variety of sources (Upcoming Lost and Found Album and Tour, vinyl single with Leesta Vall Sound Studios, and "How Are You", a collaboration with songwriter Nadine De Macedo),  I have set up an email address dedicated to do just that. Please add this email to your contacts so that you can continue to receive updates.  I promise not to overload your inboxes! 
Since I released my last CD (Last Roundup, 2015), the music landscape has continued to evolve in both interesting and inexplicable ways. I am trying to figure out how to best navigate that landscape so that my new music gets to you when it is ready. At this point, the best way to do that is to go directly to my new and improved website which has links to streaming, downloads, upcoming gigs, videos and more.
You can also listen to my music and support my work through many streaming services. 
Please Add me to your playlists! 
My first gig for the Lost and Found Tour begins on the Lower East Side, at Rockwood Music Hall (196 Allen Street) on Wednesday, December 21st at 7pm (stage #1).  I'll be joined by the always amazing Jeff Anderson on bass and my special guest, the phenomenal Brewster Smith on drums.  Hope you can make it out! 
You can follow me on Facebook and Instagram music page to get the latest about all things musically whimsical (no more twitter for me, thanks): 
https://www.facebook.com/lucas.rotman.1/ 
https://www.instagram.com/lucasrotman7/ 
In the meantime enjoy this title track from my first CD, "Where the Day Goes", produced by my good friend, mentor, teacher extraordinaire Ruth Gerson: 
Thanks Everyone! 
Lucas